Corporate & Private Classes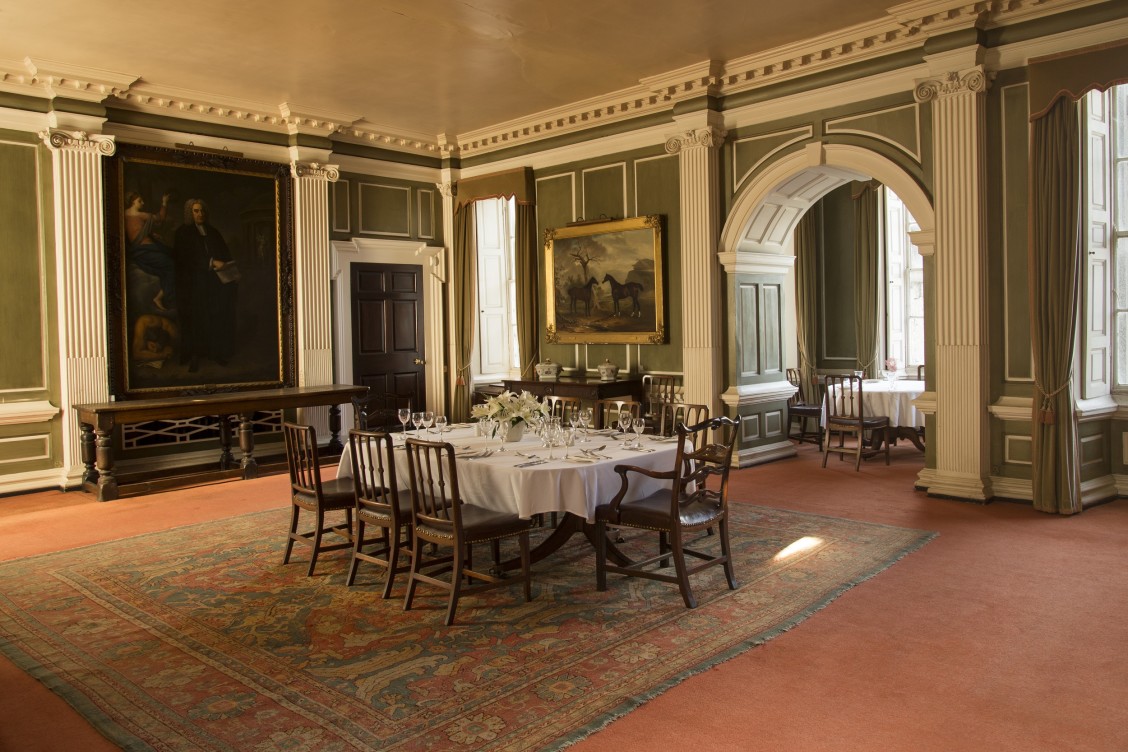 Corporate Cooking Classes Dublin
Our packages are a brilliant opportunity to try something a little different, learn a new skill, and have fun sharing an amazing new experience with your workmates and colleagues.
For a team-building event in Howth Castle Cookery School, group members roll up their sleeves and work together to get the food prepared under the guidance of our Chefs. Our bespoke corporate class offerings are designed together with each client to ensure that they get the best opportunity to learn, relax and have fun working in teams. To wrap up each 'Hands On' class everyone sits down with a glass of wine in our stunning recently refurbished Butler's Room to savour all they have created. Our corporate cooking classes in Dublin are one of Ireland's most unique, informative, and fun cooking and dining experiences out there.
We can create bespoke programmes to suit your specific needs or choose from our most popular Group / Corporate options, providing something to suit all tastes and culinary levels. All of our classes are available as private cooking classes for a group or for Company Team Day events. We also have a list of corporate-specific menus suitable for all levels and class sizes. Talk to us to arrange prosecco and canapes on arrival perhaps, a guided tour of Howth Castle, a round of golf, an adventure walk around the estate, falconry, whiskey tasting, or even a morning's fishing charter around Ireland's Eye.
The minimum number of participants is 8 persons, groups larger than 25 may be accommodated please check on booking. Class start times can be adjusted where possible to suit the team's schedule.
SOCIAL COOKING - TEAM BUILDING COOKING CLASSES
With the challenges remaining for team-building activities of late, Howth Castle Cookery School offers the opportunity to have your team sharing a live interactive class hosted by our Chefs, Sarah and John.
Your team pull up their chairs, pour themselves a cup of tea or a glass of wine, and join us as we present some of the most popular recipes from our cooking classes with tips and tricks to make everything go smoothly when you try it for yourself.
Classes are 90 minutes and questions are taken throughout the class and during the discussion at the end. Recipes are provided prior to the class along with a quick survey to find out how familiar participants might be with the menu being presented.
We can also arrange gift boxes for participants with the all-important tea or wine.
For more information please contact info@howthcastlecookeryschool.ie
PRIVATE COOKING CLASSES
Join us for a morning, afternoon or evening of hands-on cooking in the beautiful Georgian kitchen of Howth Castle.
Our bespoke cooking classes for groups of 8 – 25 are an innovative way to celebrate a special occasion or to make your next party unforgettable. Learn new skills and enjoy making and sharing a meal with your group.
We will welcome your group to the Howth Castle Cookery School for a hands-on cookery class or sit back and watch a fascinating demonstration. Menus and programmes can be adjusted to suit your party.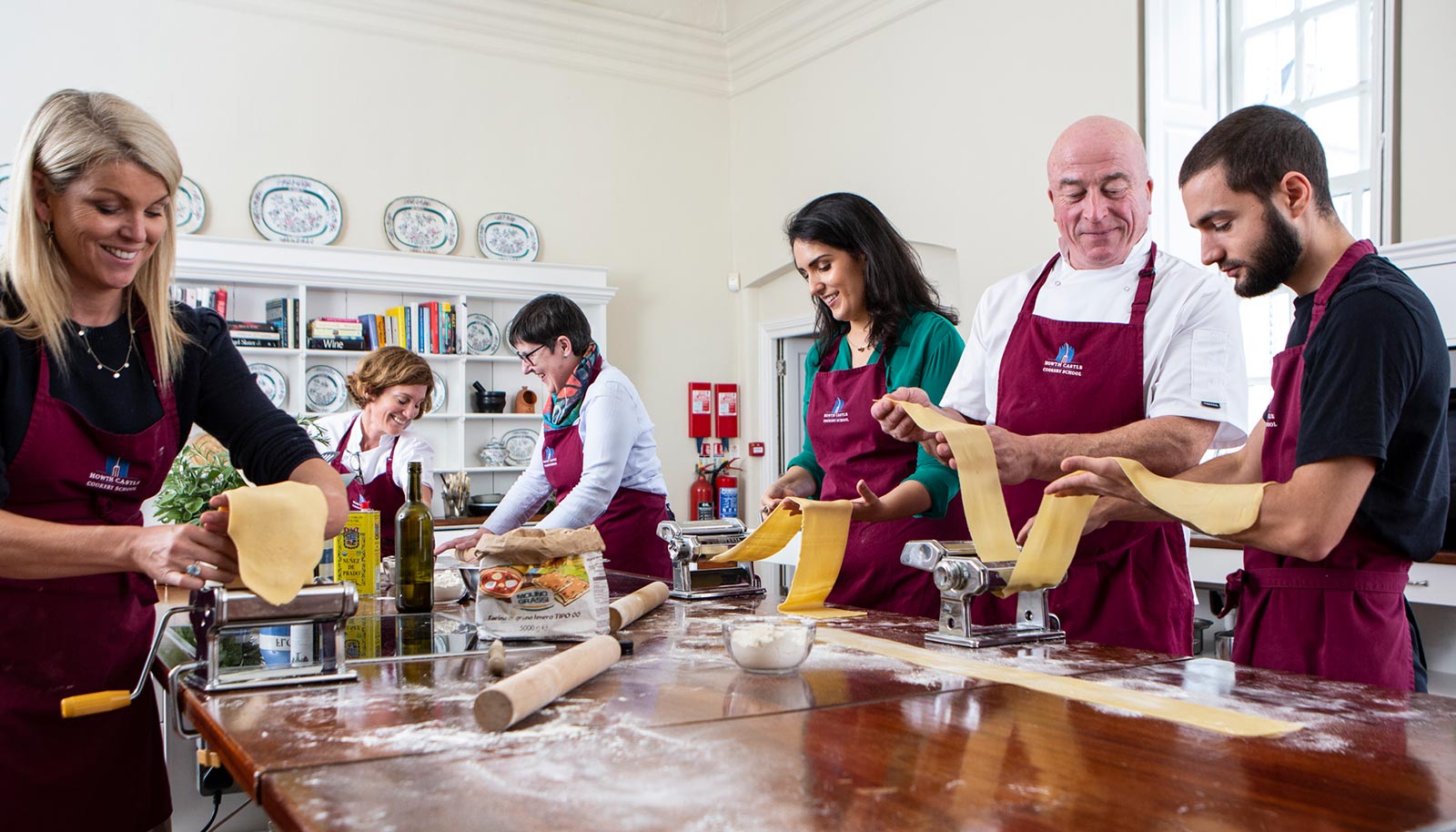 Our most popular programmes include:
Experience the Difference Cookery Class
You will be greeted with a Prosecco cocktail and a selection of canapés to put you in the right mood for a fun evening. Together with the help of our chefs you will cook a delicious three course dinner and afterwards you will sit down with a couple of glasses of wine to savour all you have made. This is a night out to remember!
Course Duration 3 ¼ hours
'Howth Castle ' Master Chef Cook Off
Each team will be given a set of recipes and a tray of ingredients will be provided for each dish. Teams will have a total of 3 hours including eating to put together the recipes in their teams. Points will be awarded for organisation, cleanliness, taste and presentation. Our chefs are on hand to help you cook. You will have to appoint a Head Chef and work as a team to get the job done.
Course Duration: 2 Hours 45 minutes
Wine and Dine
Choose from one of our expertly designed menus. Themes include Modern Irish Food, Thai Supper Club, Contemporary Cooking Class or Modern Irish Fish Class.
Work as a team to produce an amazing three course meal that you will sit down and enjoy with a glass of wine. We will provide all the recipes for you and show you how to master any difficult culinary challenges.
Course Duration 2 hours 45 minutes
Scone and Irish Coffee Making
Ideal for those with limited time, our chef demonstrates how to make scones and Irish coffee, then each member of the group make their own Irish coffees and enjoy them with scones, butter and jam.
Course Duration: 1 hour
Themed Cookery Demonstration
Sit down, and watch this lively and animated entertainment, peppered with lots of chef's tips and a tasting of all the dishes cooked. Our tutors will demonstrate and prepare a selection of themed dishes; we have a wide selection of classes including: Fish from the Irish Coastline, Our Paris Kitchen, Indian curries and A Thai Feast to name but a few. Relax, sip a glass of wine and watch this passionate and enthusiastic presentation, peppered with lots of chef's tips and appetizing tasters of all the dishes.
Course Duration: 2 hours
Excursion Experiences
Catch & Cook
This class starts out early with two hours of fishing out the back of Ireland's Eye in Dublin Bay, having fun doing your best to catch your own lunch and practice your casting and reeling techniques. We'll return to the cookery school for a light lunch and then straight into a 2-hour hands on class where we will show you how to cook and clean whole native brown crab. We'll show you how to clean out your catch (fingers crossed for some mackerel, season dependent) and prepare it for grilling and we'll also make a delicious and light dessert to finish off a busy day.
This is a great fun and unique class. Numbers are limited to 12,
Course Duration: 6 hours 30 minutes
Hope Beer Brewery Tour and Food Matching Class
We've paired up with Hope Beer, based in North County Dublin to bring you a day of new experiences and tastes. Following a tour of the brewery you will have the opportunity to taste a selection of beers. After a light lunch back at the cookery school before a 2-hour hands on cooking session focusing on dishes which will compliment the tastes and flavours of Hope Beers.
A feast of delicious recipes and tastings wraps up this fun and interactive day.
Course Duration: 6 hours 30 minutes
We look forward to welcoming you and your party to Howth Castle Cookery School. If you need any further information or would like us to design a bespoke cookery course, please contact us by email: info@howthcastlecookeryschool.ie or telephone us on 00 353 1 839 6182.